Located in Jungwon-gu, Seongnam-si, Gyeonggi-do, the Jaseng Medi Bio Center occupies a space of 7000 pyeong (approximately 23,099 square meters) spread across four above-ground floors and one basement floor. It houses facilities for preparing herbal medicine and pharmacopuncture, quality inspection, water management for preparation, and delivery services. The center has the capability to prepare herbal decoctions for up to 1500 patients and process up to 800 tons of raw herbs annually. It is equipped for all types of traditional Korean medicinal product preparations, including pharmacopuncture, decoctions, pills, granules, and capsules. Notably, its pharmacopuncture is being supplied to over 5000 traditional Korean medical institutions nationwide upon operation.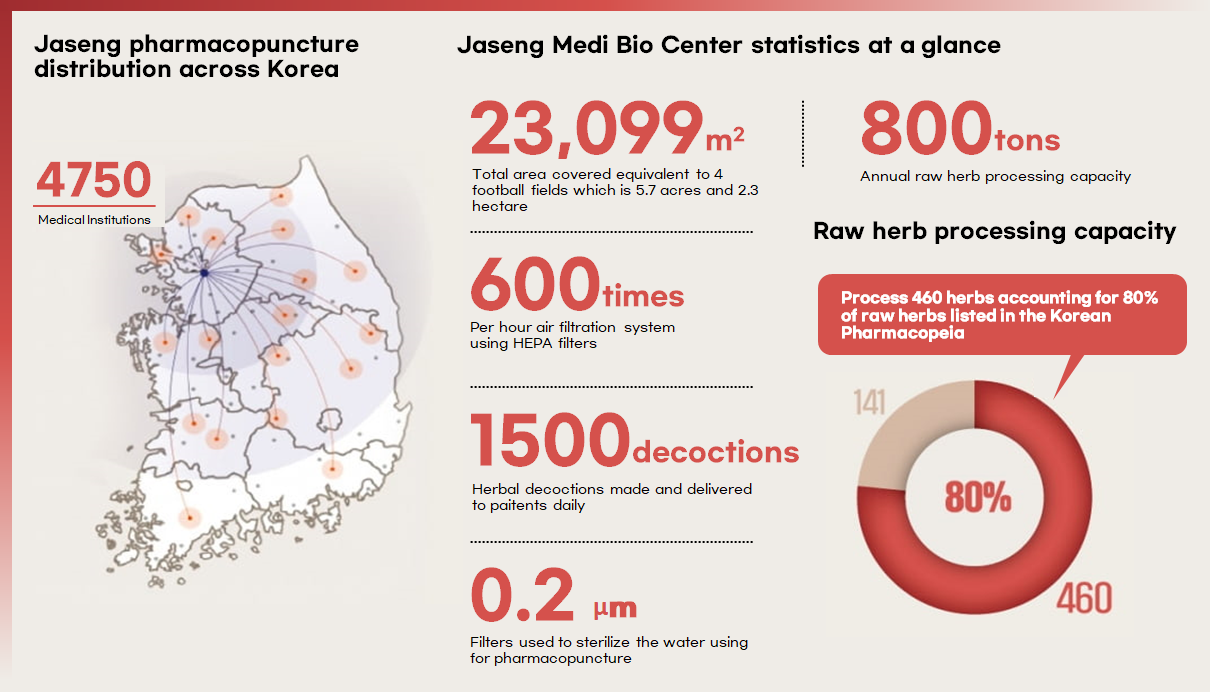 With over 30 years leading the standardization, scientification, and globalization of traditional Korean medicine, Jaseng Hospital's expertise is epitomized in the Jaseng Medi Bio Center. It distinguishes itself not just by scale but by quality, earning titles such as "the first" and "the most." The center was the first in Korea to receive certification after a field audit of hGMP (Herbal Medicine Manufacturing and Quality Management Standards) by the Ministry of Food and Drug Safety. It has also been named an excellent enterprise for five consecutive years since the introduction of hGMP in 2018.
As of October 2023, 460 types of raw herb ingredients have been registered and approved, and the center selectively uses top-tier ingredients from around the world, including Korea, China, Russia, Vietnam, and Peru. They also adhere to the Convention on International Trade in Endangered Species of Wild Fauna and Flora (CITES). All carefully selected herbal ingredients undergo over nine thorough inspections for ingredient verification, residual pesticides, heavy metals, and other impurities during the procurement, reception, and dispatch processes. They are stored at specific temperatures and humidity levels suited to their characteristics. The center maintains a record of having received no administrative penalties to date in terms of quality management of herbal ingredients.
The herbal medicine and pharmacopuncture preparation facilities of Jaseng Medi Bio Center are equipped with cutting-edge technology that is on par, if not superior, to those of the mainstream pharmaceutical industry in Korea. Each floor of the building is equipped with an independent HVAC (Heating, Ventilation, and Air Conditioning) system, ensuring that only clean, filtered air circulates within. Notably, it is the first facility in the country to secure certification from the Ministry of Health and Welfare for its external pharmacopuncture decoction room, preventing cross-contamination between raw materials, supplies, and waste with its operation of four different grades of aseptic rooms (Grade A~D).

Water used in the preparation of herbal medicine is maintained in a pristine state around the clock. It undergoes a three-stage filtration process (micro, carbon, membrane) in the underground water treatment facility and is further purified using an electric deionization (EDI) system, ensuring the water is free of impurities. Rigorous water quality management continues with organic carbon, conductivity, and microbial tests.
Automation ensures precision and hygiene during the preparation stages. Most processes, including preparation, extraction, filling, packaging, marking of patient and herbal medicine information, and sterilization, are automated. In the case of pharmacopuncture, where the introduction of harmful substances is not permitted, the liquid undergoes double filtration through a 0.2-micrometer (µm) sterilization filter post-decoction. The vials containing the pharmacopuncture liquid are cleansed in a six-stage process, including ultrasonic vibration and high-pressure purified water spray, then sterilized at over 300°C to ensure no contamination from toxic substances. Each batch must pass a complete inspection and quality test before being released for distribution.


Once prepared, the herbal medicines are safely delivered to patients within a few days via an in-house delivery system. Every aspect, including the packaging condition and weight of the herbal medicine, is checked to ensure there are no issues with the address and quantity before dispatch. Direct delivery is available in Seoul and the metropolitan area, with assigned area managers ensuring prompt delivery. Contacts are made with patients before and after delivery to prevent any potential misdelivery issues.


Dr. Joon Shik Shin, the Chairman of Jaseng Hospital, stated that the Jaseng Medi Bio Center prepares herbal medicine with meticulous standards, imbued with the founding philosophy of "Compassion for others," as if preparing medicine for their own family. They are committed to continuous efforts to bolster the confidence and trust of patients and the public in herbal medicine.


Moreover, the Jaseng Medi Bio Center is open for tours to anyone interested. Guided by professional docents, visitors can directly observe each stage of herbal medicine and pharmacopuncture preparation. The on-site JS Museum offers insights into the patient-centered treatment philosophy and history of Jaseng Hospital.
What to read next on Jaseng Medical Academy