Role of Korean Medicine doctors in the Korean Independence Movement
The contents of this CE session are based on the following reference: 정상규. 대전자령 전투, 어느 독립군의 일기. 문학아틀리에; 2020.
Faculty
Min-shik Shin
KMD, Ph.D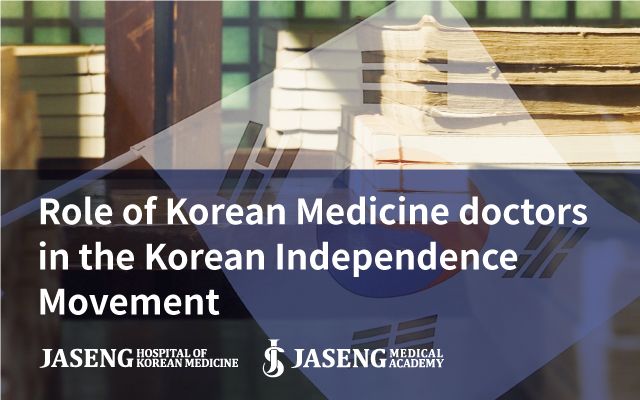 This CE activity (pending) is composed of 4 sections, composed of an introductory video on the philosophy, vision and mission of Jaseng Hospital of Korean Medicine, and 3 individual talks from 3 Jaseng Korean Medicine physicians, each covering (1) evidence-based Korean Medicine (in 'Common misconceptions about Korean Medicine'); (2) patient-focused communication based on Jaseng's medical philosophy (in 'Compassion for others - The role of communication in treatment'); and (3) embodiment and integration of medical philosophy into clinical practice (in 'Applying the core values of Jaseng').
Delivering care to your patients with compassion and empathy is vital to all healthcare workers, regardless of your specific field or specialty. The talks are both engaging as personal accounts of experience, but also universal in their relatability.
At the end of this activity, learners would be able to
* Understand the national spirit underlying traditional medicine within the context of the humanities, and social and cultural backgrounds in integration of non-medical and medical fields.
* Observe through learning of historical independence movements such as the Battle of Daejunjaryung and activities of Korean Medicine army doctors, the national spirit and compassion (矜恤之心) behind the independence movement of Korean Medicine doctors in the Japanese colonial era.
* Consider how the spirit and traditional heritage of compassion, patriotism, and traditional nationalist medicine may be inherited to live on in modern Korean Medicine through examination of the historical independence movement of Korean Medicine doctors (To learn anew from history (溫故而知新)).
The following is activity is accredited to provide the following credits:
0.5 AMA PRA Category 1 Credits™

0.5 NACCOM PDA Credits



Min-shik Shin
KMD, Ph.D
Director of Jamsil Jaseng Hospital of Korean Medicine
Director of Jaseng Medical Foundation Corporate Social Responsibility Committee
Member of Korean Society of Chuna Manual Medicine for Spine and Nerves (KSCMM)
Min-shik Shin, KMD, Ph.D. has disclosed no relevant financial relationships to this activity.
Planners, Reviewers and Editors
Jinho Lee, KMD
In-Hyuk Ha, KMD
Me-riong Kim, KMD
Seung Min Kathy Lee, KMD
Young-suk Yoon, KMD
Jinhun Park, KMD
Andrew Jang, L.Ac; and Ju Seok Lee
The planners, reviewers, and editors have disclosed no relevant financial relationships to this activity.
Disclosures
Jaseng Hospital of Korean Medicine requires every individual in a position to control educational content to disclose all financial relationships with ineligible companies that have occurred within the past 24 months. Ineligible companies are organizations whose primary business is producing, marketing, selling, re-selling, or distributing healthcare products used by or on patients.


All relevant financial relationships for anyone with the ability to control the content of this educational activity are listed below and have been mitigated according to Jaseng Hospital of Korean Medicine policies. Others involved in the planning of this activity have no relevant financial relationships.
Disclaimer
The opinions and ideas expressed in this educational activity are solely those of the faculty and are not necessarily endorsed by, nor do they necessarily reflect, those of their affiliated institution(s) or Jaseng Medical Academy. Clinical judgment must guide each physician in weighing the possible risks and benefits of any diagnostics, interventions, or treatments discussed. Physicians should review manufacturers' product information and consider these along with the recommendations of other authorities when applying the assessment and/or clinical management strategies discussed in this activity to their patients.