[MRI online]
Knee - Menisci
part 2
Evaluate the knee menisci and develop a deep understanding of normal physiologic signal and meniscal anatomy.
Starting date
September 8
2023
Faculty
Stephen J. Pomeranz
M.D.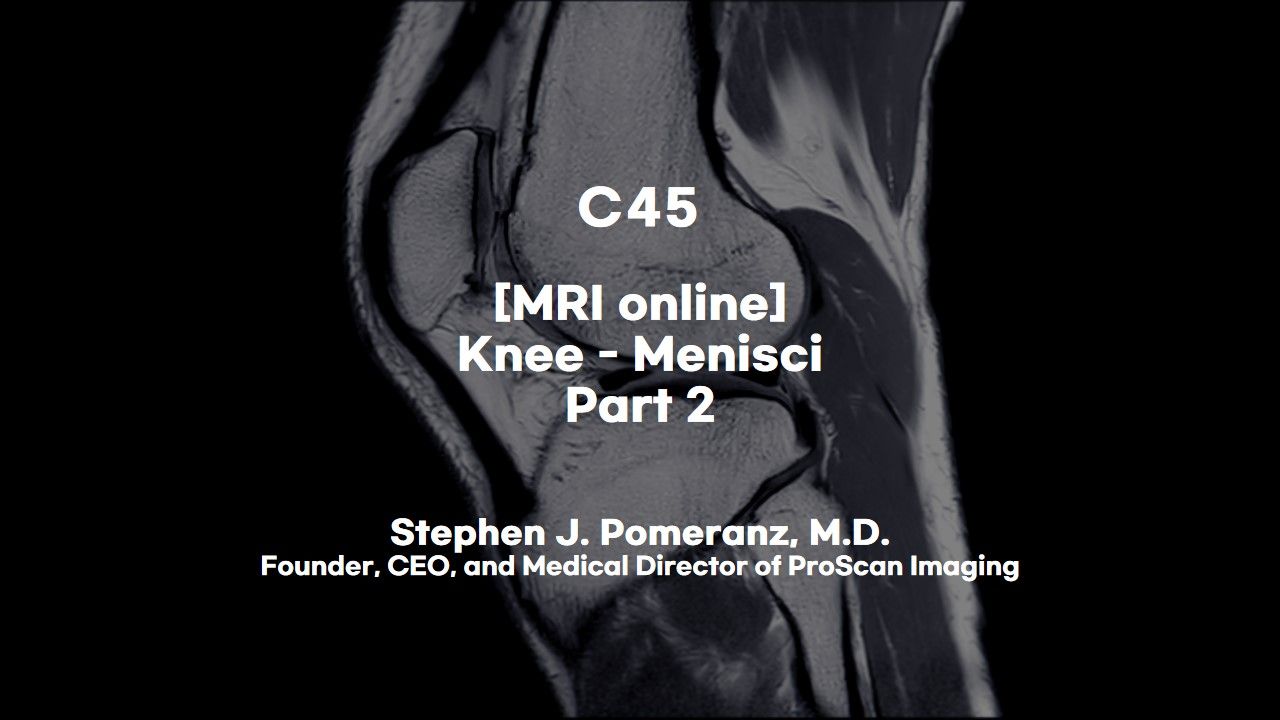 In this CME/CE session,
Learn and understand terminology used to describe the meniscus.
At the conclusion of the session, learners should be able to:

1. Learn to evaluate and diagnose meniscus pathologies with regards to gradings, surgical intervention, and reporting.
2. Learn the basic meniscus anatomy with regards to origin, insertions, and pathologies that can effect it.
3. Learn the features, variations, and charecteristics of the meniscus on MRI.
The following is activity is accredited to provide the following credits:
0.5 AMA PRA Category 1 Credits™
0.5 APHRA CPD hours
Stephen J. Pomeranz
M.D.
Founder, CEO, and Medical Director of ProScan Imaging
Parent organization to ProScan Imaging Education Foundation
Partowner of ProScan Imaging outpatient diagnostic imaging sites

Stephen J. Pomeranz, M.D. has disclosed no relevant financial relationships to this activity.
Planners, Reviewers and Editors
Jinho Lee, KMD
In-Hyuk Ha, KMD
Young Suk Yoon, KMD
Gyubin Lee, KMD
Andrew Jang, L.Ac
Karen Jang, L.Ac
The planners, reviewers, and editors have disclosed no relevant financial relationships to this activity.
Disclosures
Jaseng Hospital of Korean Medicine requires every individual in a position to control educational content to disclose all financial relationships with ineligible companies that have occurred within the past 24 months. Ineligible companies are organizations whose primary business is producing, marketing, selling, re-selling, or distributing healthcare products used by or on patients.


All relevant financial relationships for anyone with the ability to control the content of this educational activity are listed below and have been mitigated according to Jaseng Hospital of Korean Medicine policies. Others involved in the planning of this activity have no relevant financial relationships.
Disclaimer
The opinions and ideas expressed in this educational activity are solely those of the faculty and are not necessarily endorsed by, nor do they necessarily reflect, those of their affiliated institution(s) or Jaseng Medical Academy. Clinical judgment must guide each physician in weighing the possible risks and benefits of any diagnostics, interventions, or treatments discussed. Physicians should review manufacturers' product information and consider these along with the recommendations of other authorities when applying the assessment and/or clinical management strategies discussed in this activity to their patients.
CME Information
CME Accreditation Statement
Jaseng Hospital of Korean Medicine is accredited by the Accreditation Council for Continuing Medical Education (ACCME) to provide continuing medical education for physicians.


Jaseng Hospital of Korean Medicine designates this enduring material for a maximum of 0.5 AMA PRA Category 1 Credit™. Physicians should claim only the credit(s) commensurate with the extent of their participation in the activity.
Discussion of Off-Label Uses and Investigational Products
During the course of their presentation(s), the faculty may mention the use of the product(s) that have not been approved for the indication(s) being discussed. All faculty are instructed to notify when they are discussing unapproved uses or investigational agents. In addition, relevant slides will include notation of the off-label use or investigational agent being discussed. Views presented related to unapproved uses of products are solely those of the faculty and are not endorsed by, nor do they reflect, those of Jaseng Medical Academy.
Statement of Independence
CME activities of Jaseng Medical Academy are developed and conducted in accordance with the ACCME's Essential Areas and Policies. It is the mission of Jaseng Medical Academy to develop and present CME and other educational activities in the field of Complementary and Alternative Medicine that are timely, balanced, scientifically rigorous, and that serve to improve competency, performance, and patient outcomes. To that end, we welcome your comments on areas of needs and/or gaps in your medical practice and how to better serve your needs.


Questions? If you have questions about this activity, please email [email protected] or call us at +82-2-2222-2792.