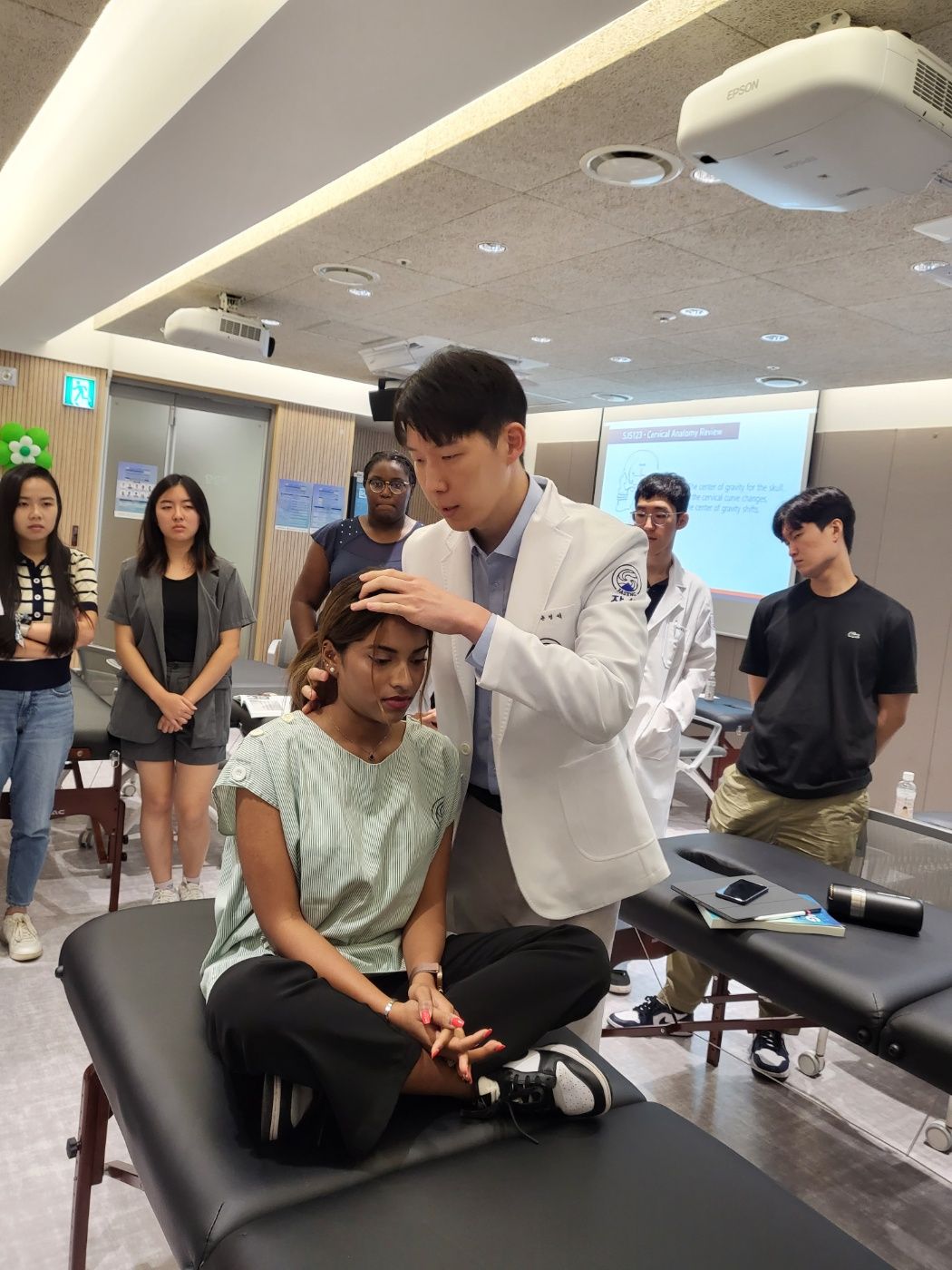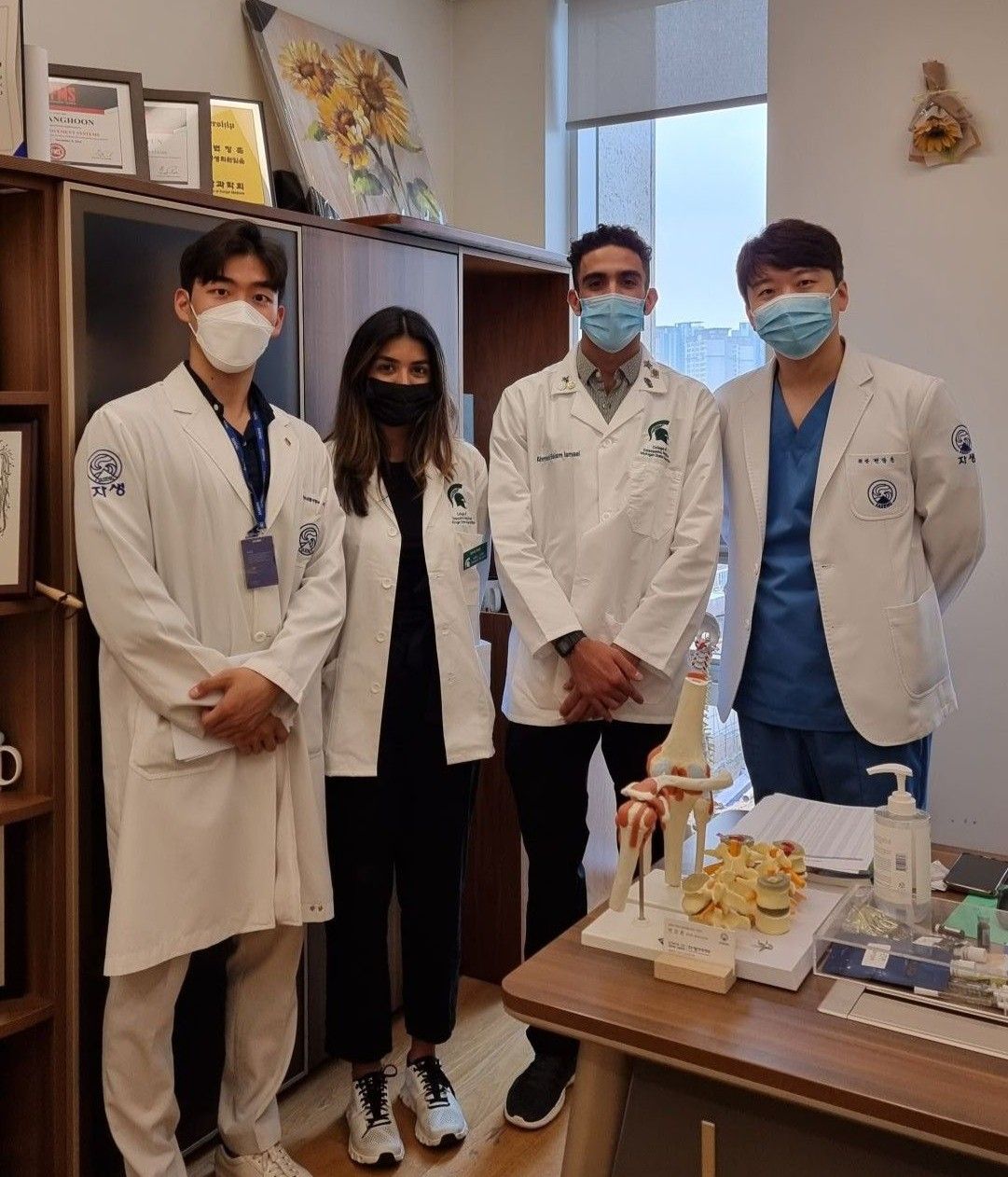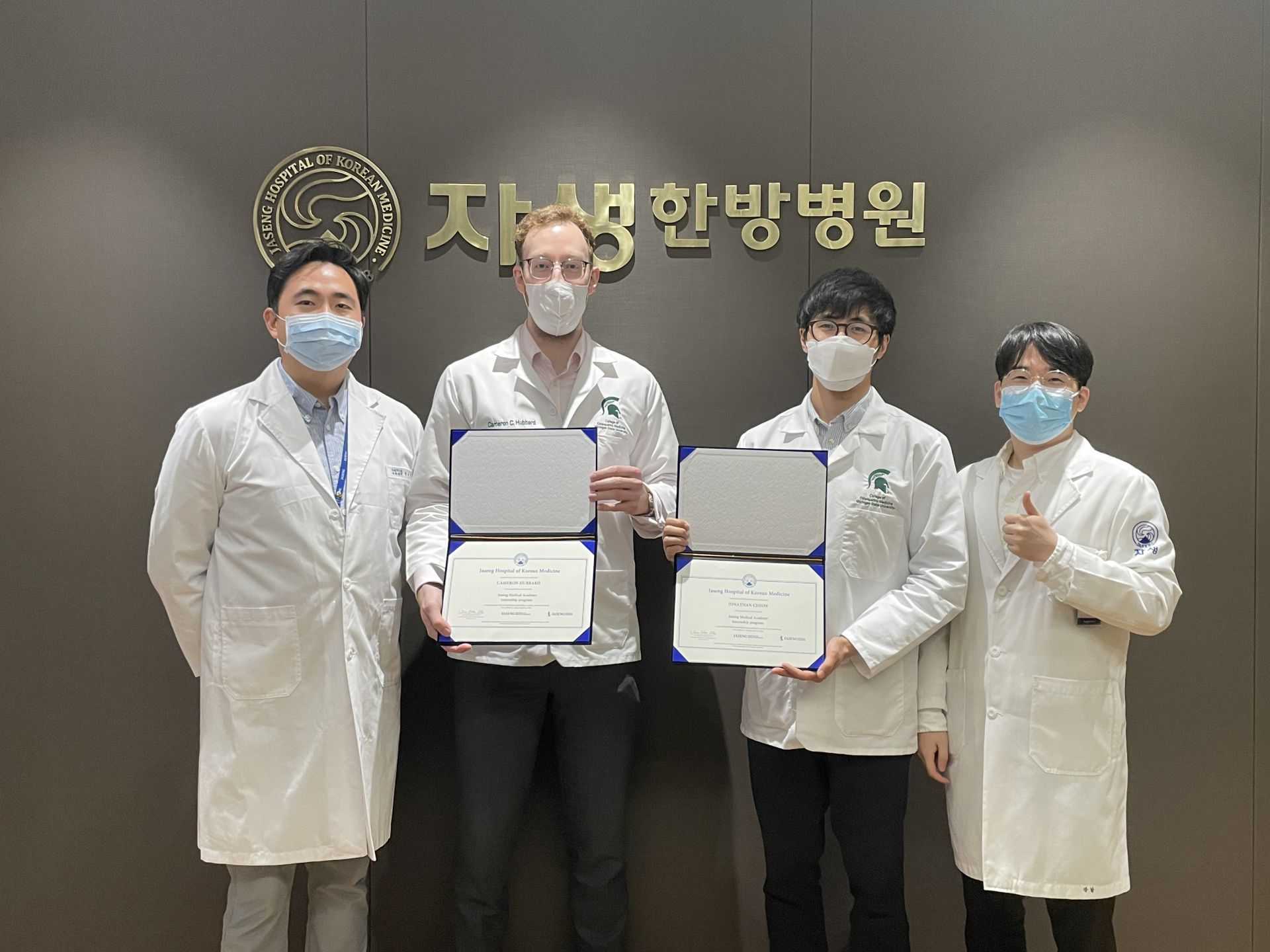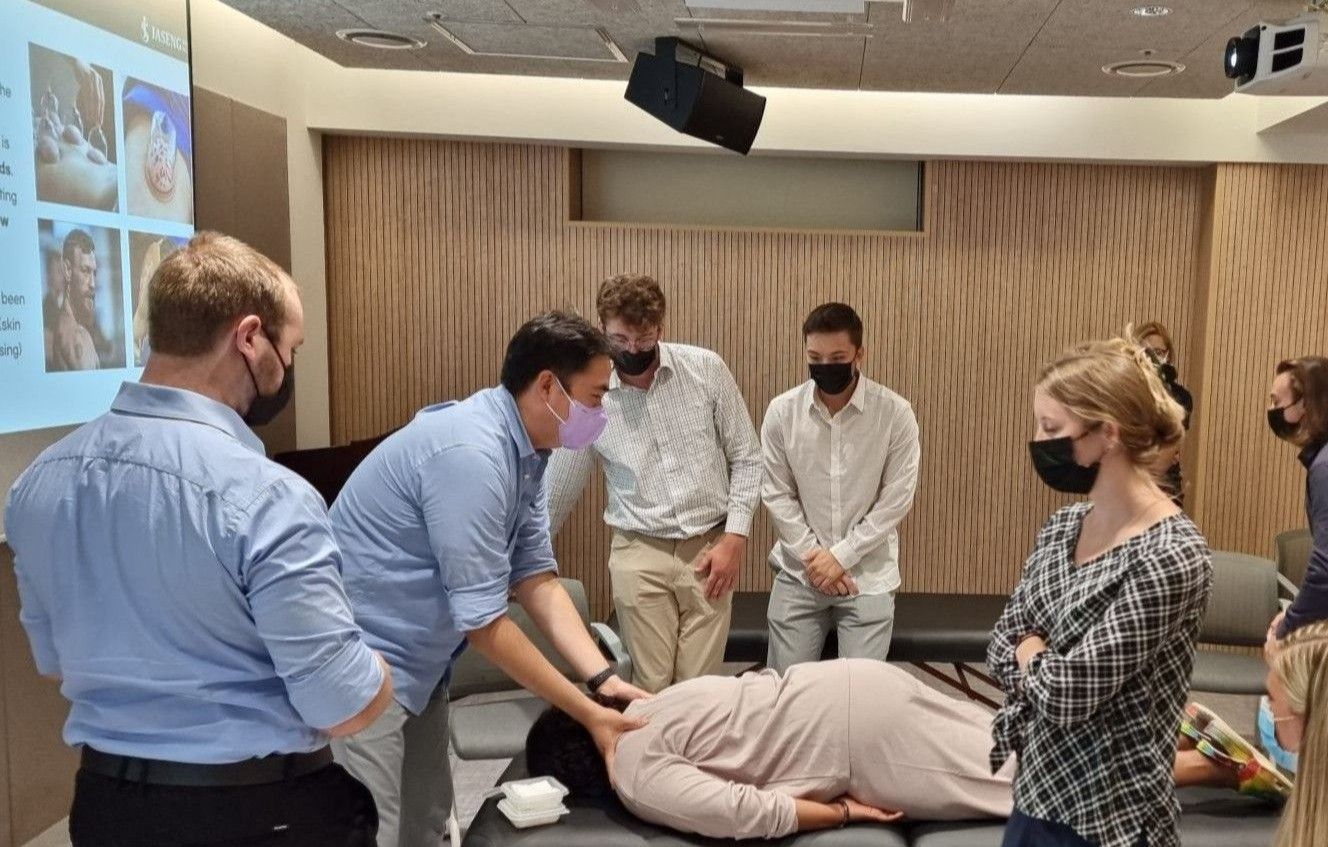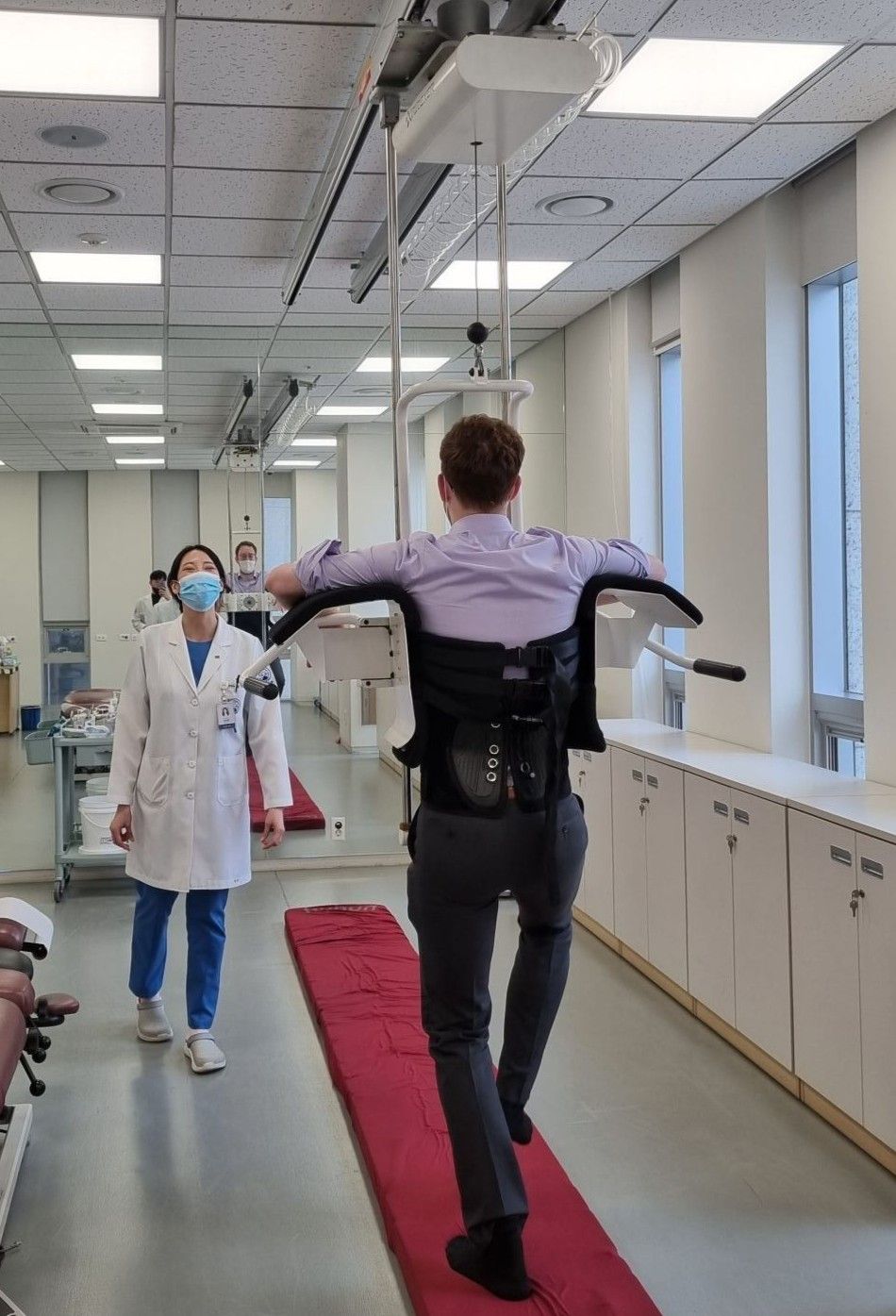 Integrative Medicine Internship Program
A comprehensive learning experience that covers the fundamentals of Integrative Medicine and provides insights into South Korea's health care system. Explore the entire spectrum, from research to hands-on clinical practice.
Bust Suited For

Med or premed student
Upcoming Internship Programs
Integrative Medicine Internship Program 2024 Winter
January 2nd, 2024 to
January 15th, 2024
Tuition Fee: $1500
Integrative Medicine Internship Program 2024 Summer
July 8nd, 2024 to
July 19th, 2024
Tuition Fee: $1500
Integrative Medicine Internship Program 2025 Winter
January 6th, 2025 to
January 17th, 2025
Tuition Fee: $1500
Why Intern at Jaseng Hospital?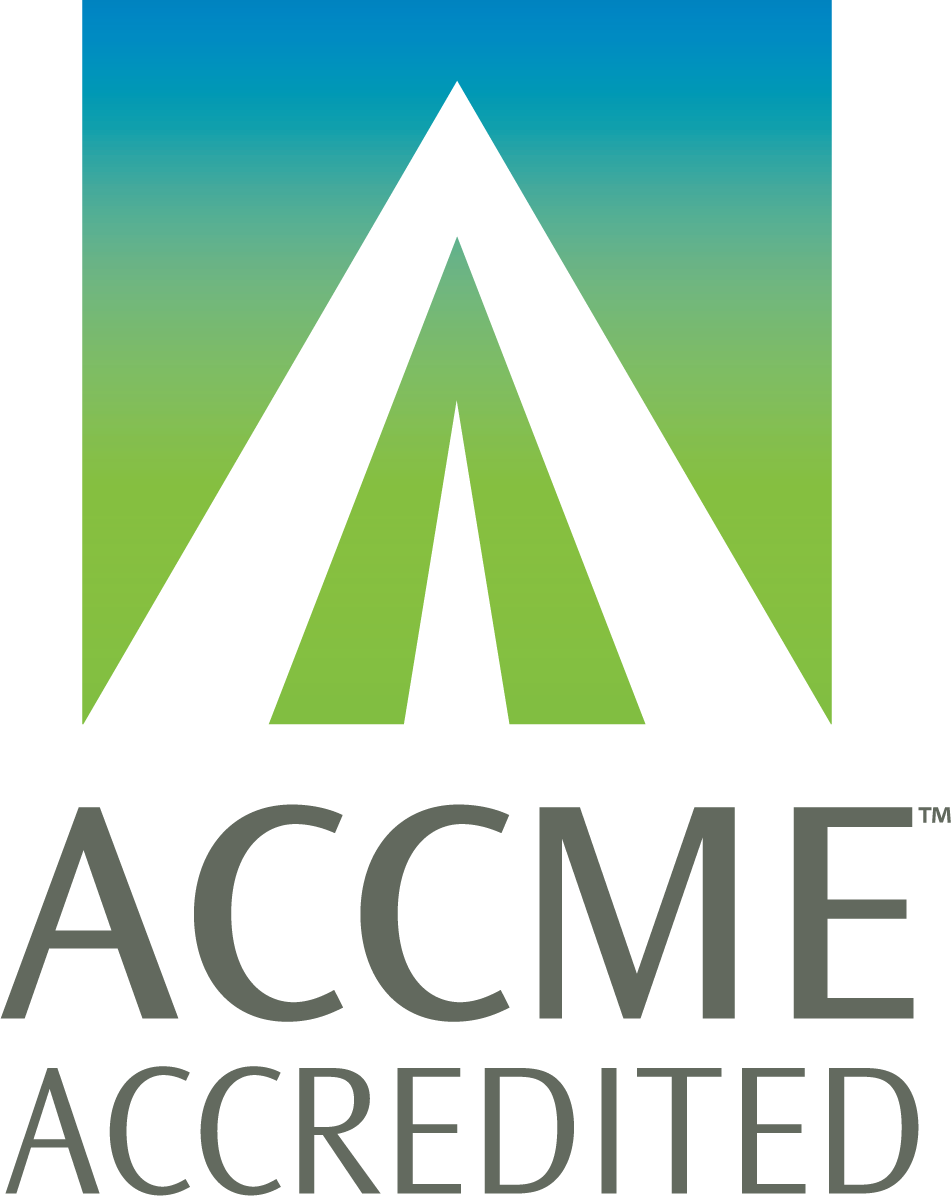 Broaden your global perspective on medicine by undertaking a rotation at the largest network of Korean Medicine Hospitals in South Korea, featuring 21 branches across the country.
Jaseng Hospital stands as an accredited residency training hospital for Korean Medicine Doctors in South Korea, offering a unique opportunity for hands-on experience with experts in the field.
As the sole ACCME accredited organization in East Asia, our programs are meticulously crafted to align with ACCME competencies, ensuring a high standard of education and training for participants
Expectations

Please note: A significant portion of our patient population speaks Korean, and, if necessary, patient encounters may be translated to English by the physician or a dedicated translator.
Jaseng Hospital of Korean Medicine specializes in non-surgical treatments within the realm of Korean Medicine. Predominantly employing Integrative Medicine, our treatments involve acupuncture, pharmacopuncture, herbal medicine, Chuna manual therapy, and more. We integrate allopathic diagnostic methods such as MRIs, X-rays, and pathological examinations.
Participants in our program will have the opportunity to observe patients undergoing various treatments, particularly in areas such as traffic injuries, whiplash, herniated discs, dislocations, fractures, pain management, Bell's palsy, disease prevention, and more.
As this program is situated in Korea, participants will gain firsthand experience and global insights into the Korean hospital healthcare system and operations. Additionally, they will visit our affiliated universities and hospitals.
Participants will have the opportunity to learn and participate in research conducted at Jaseng. They will learn about research methodology and evidence-based medicine. Despite common misconceptions about Integrative Medicine lacking scientific evidence, participants in our program will be exposed to research supporting these treatments. Visits to our research laboratory and herbal dispensaries are also included in the program.
Exposure Type
Our programs are meticulously designed to provide a well-rounded and balanced experience for participants in all fields of medicine from a global perspective. Participants will have the opportunity to learn and broaden their spectrum of medicine, which will undoubtedly contribute to their future practice.
Clinical (physician Shadowing and observership)
Academic (lectures and hand on training session)
Research
Affilitations
Participants will have the opportunity to visit various affiliated institutions according to the schedules.
Jaseng Hospital of Korean Medicine
Pusan National University
Seoul National University
Kyung Hee University
Eulji Medical Center
Languages Spoken
English and Korean
Target Audience
Pre-med and early year medical school students
How you are Evaluated
Upon completion of the rotation, participants will receive:
Certificate of Attendance
Letter of Recommendation
Required Documents for Application
CV
Cover letter
Proof of enrollment (student ID or academic transcript)

Profile picture of yourself (jpg or png)

Complete online application Form
Please note: All documents must be originals in English in PDF or Word Format
Application Process
Step 1. Sign up: Make a user account on our website
Step 2. Select: View our rage of medical programs and select the type of program and the date that is right for you
Step 3. Apply: Prepare all the documents listed on the Application from and apply for the program from our website
Step 4. Confirm: Once you have applied for the program our staff will review your application and be in contact with you to schedule a Zoom Meeting
Step 5. Enroll: Once we have a Zoom meeting with you and confirmed proceed to the enrollment process
Step 6. Prepare: Book your flights, accomodation and visa. Prepare for your rotation and visit to South Korea.
Step 7. Rotate: Start your Integrative medicine journey at Jaseng Hospital of Korean Medicine
Additional Information
Meals: Lunch is provided Monday-Friday
Flights: Flights are not organized or provided by us
Accomodation: It is not provided; we do provide you with list of recommendations of hotels nearby which is downloadable below
Insurance: Participants must purchase their own individual travel insurance for their full duration in South Korea
Attire: Students are required to be dressed professionally during the program
- Closed Shoes must be worn at all times
- No revealing clothing
Lab Coat: Customized white coats with the participants name printed on will be provided. If you have your own university/hospital/instiution coat please bring them with you to the program

Visa: A Letter of Invitation will be provided on request for visa applicatons
Schedule
Participants can expect a minimum of 40 hours per week. The program schedule may vary; please consult with the supervising advisor
Monday 9:00 am - 5 pm KST
Tuesday 9:00 am - 5 pm KST
Wednesday 9:00 am - 5 pm KST
Thursday 9:00 am - 5 pm KST
Friday 9:00 am - 5 pm KST
Location
536, Gangnam-daero, Gangnam-gu, Jaseng Hospital of Korean Medicine Gangnam, Seoul, South Korea.
Karen Jang
Medical Program Manager
Jin Ho Lee
Medical director
Young Suk Yoon
clinical supervisor
Gyubin Lee
supervising physician
Siwon Kim
supervising physician
Andrew Jang
medical program supervisor
Frequently asked questions
What are the Tuition fees ?
Tuition varies by program. Please refer to the specific program page for detailed fee information.
Is a visa required for the training program in South Korea?
After you are accepted into your rotation, You will then need to obtain a visa depending on the country you are traveling from, which is a critical step to entering South Korea.

We can provide you with a invitation letter which you need to submit when applying for visa.

Alternatively, you may not need an invitation letter if you apply for a visiting tour visa.
Is financial assistance available?
Currently, we do not offer financial assistance or stipend.
Does the fee include travel expenses and accommodation?
No, the fee does not cover travel or accommodation.
Can you recommend accommodation options?
Below is a list of accommodation recommendations near Jaseng Hospital of Korean Medicine Hospital Gangnam (536 Gangnam-daero, Nonhyeon 1(il)-dong, Gangnam-gu, Seoul), organized by hotel ratings. Some hotels may offer discounts for longer stays, so we recommend contacting them before booking. If you have trouble talking with the owners of the hotel due to the language barrier, please contact us and we can assist you with your booking. We have no affiliation with any of the hotels listed.

Additionally, if you plan on staying for an extended period, consider looking into options on Airbnb.
Novotel
Can I customize my program focus or schedule?
Absolutely! Our programs are flexible, allowing you to tailor your experience based on your interests and goals.
Who is eligible to participate in the program?
Eligibility varies by program. Please visit the specific program page for eligibility criteria.
Will I receive a certificate upon completion?
Yes, successful participants will receive a certificate of completion. A recommendation letter is also available upon request.
Are there opportunities for research involvement?
Definitely! Participants can engage in research, collaborate with experts, contribute to ongoing projects, or initiate their own research.