AJA 2023
The 4th Annual Jaseng Academic Conference
"Perspectives on Integrative Medicine"
August 13, 2023 - Grand InterContinental Hotel Parnas, Seoul
AJA 2023
The 4th Annual Jaseng Academic (AJA) Conference, held on August 13, 2023, in Seoul, South Korea, was a pivotal event in the realm of integrative medicine. Co-hosted by Jaseng Hospital of Korean Medicine and Michigan State University College of Osteopathic Medicine, the conference gathered over 500 professionals, including Korean Medicine Doctors (KMDs), Medical Doctors (MDs), Doctors of Osteopathic Medicine (DOs), acupuncturists, researchers, and students. The theme, "Perspectives on Integrative Medicine," marked a departure from previous conferences, embracing a multidisciplinary approach to healthcare.
The event highlighted the importance of holistic patient care and cross-disciplinary collaboration in healthcare. It offered a comprehensive overview of the current state of integrative medicine approached in manual medicine, evidence-based acupuncture treatment, and acupuncture research. The AJA conference served as a platform for global healthcare professionals to exchange ideas and perspectives, bridging the gap between diverse medical systems and promoting improved patient outcomes and well-being.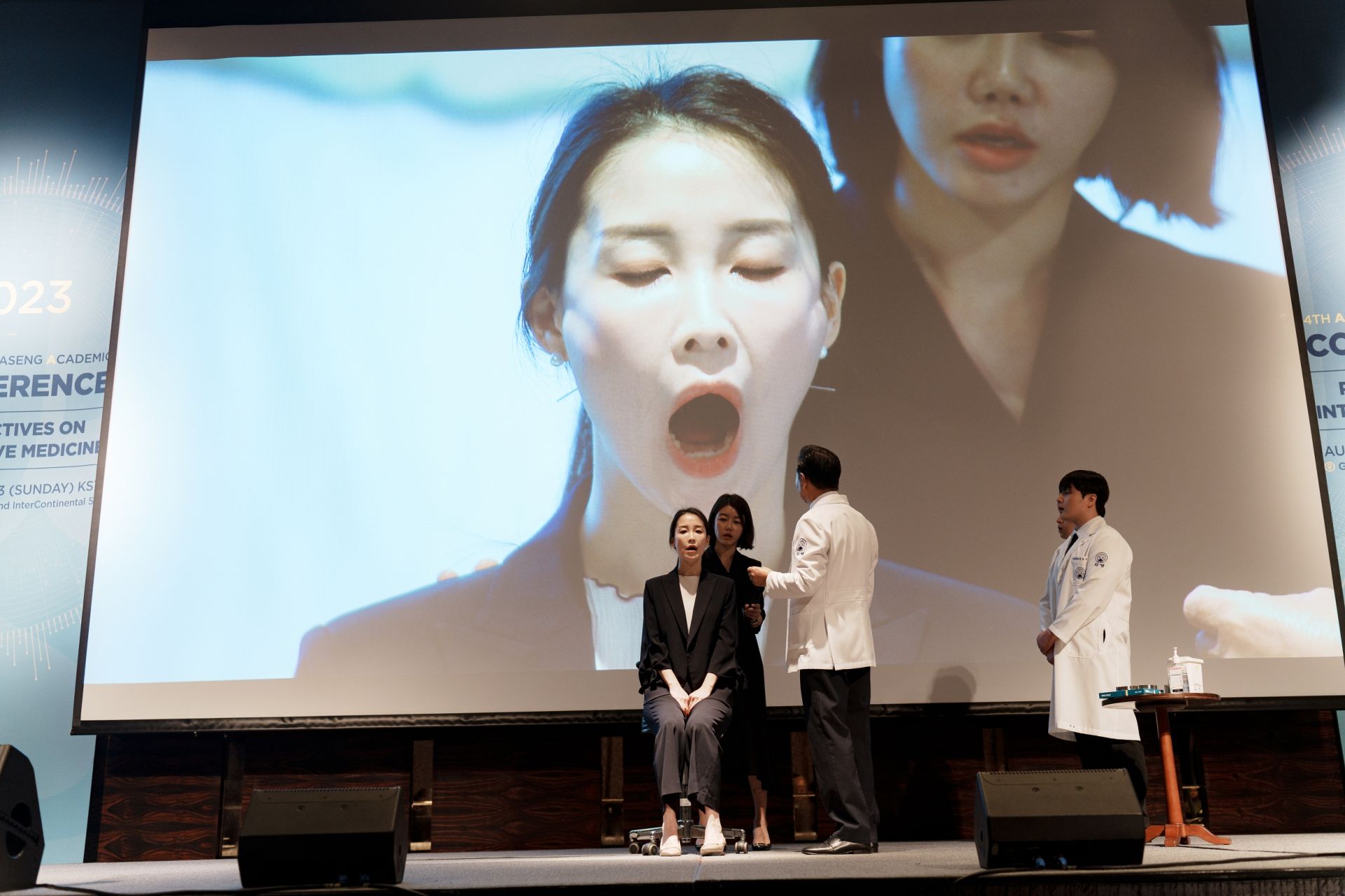 In 2023, marking its 4th event, AJA 2023 conference underwent a significant transformation. It evolved into a dynamic platform for sharing diverse perspectives and ideas from various medical systems, fostering discussions aimed at optimizing treatments for patients across a wide spectrum of topics. Each session was designed to embrace a multitude of subjects and viewpoints from different healthcare professions. The overarching goal shared among healthcare professionals was to prioritize the best possible health outcomes for patients, transcending the distinctions between Eastern and Western medical approaches.


AJA 2023 conference was divided into two distinct parts:

Perspectives on manual medicine treatments
Session 1: Integrative Manual Therapies Clinical Session on Chuna Manual Medicine (CMM) and Osteopathic Manual Medicine (OMM)

Perspectives on acupuncture research and clinical practice
Session 2: Perspectives on evidence-based medicine in acupuncture and manual therapies
Program at a Glance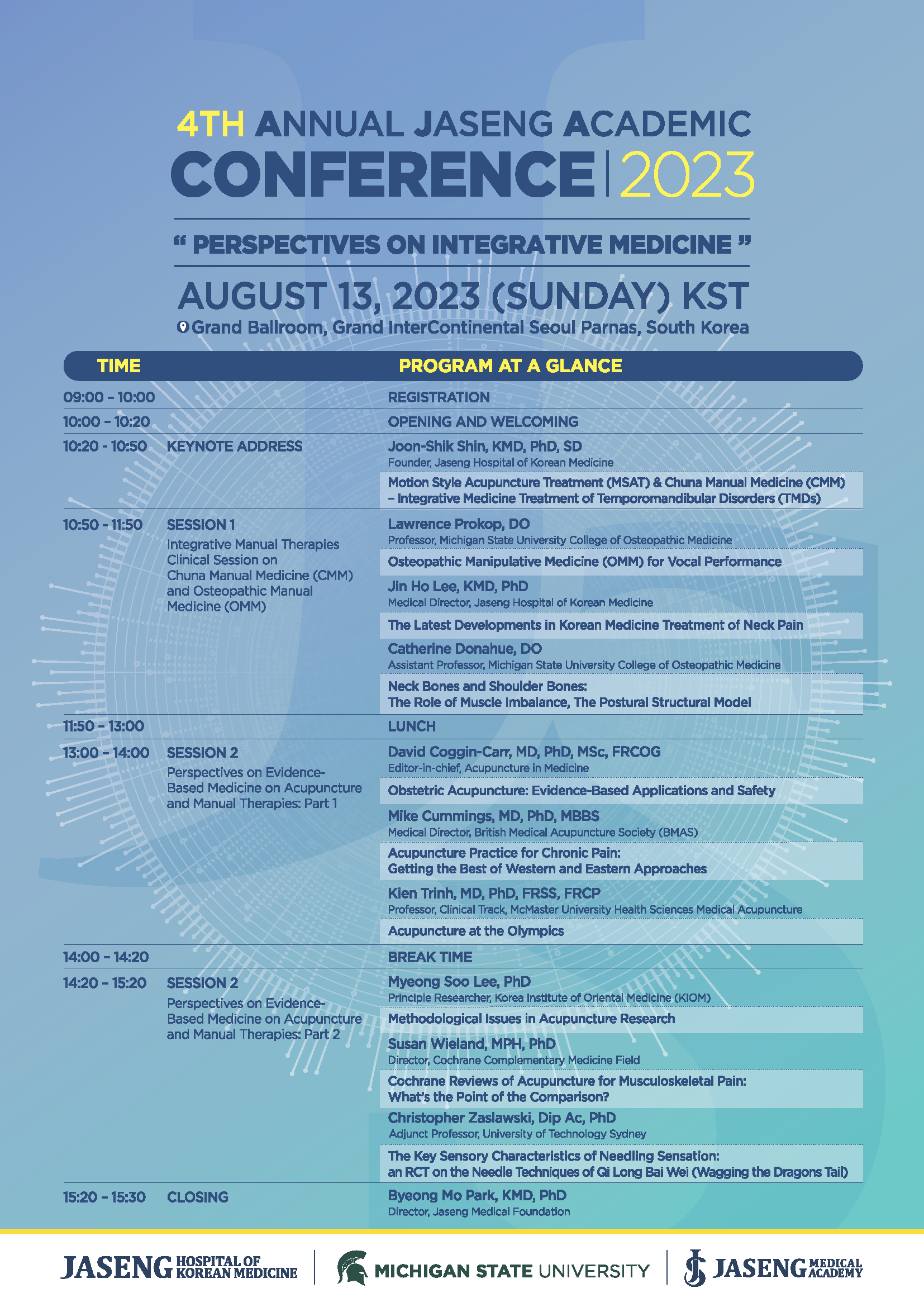 Joon-Shik ShiN
KMD, PHD, SD
CEO and Founder
Jaseng Hospital of Korean Medicine
Lawrence prokop
DO
Professor
Michigan State University College of Osteopathic Medicine
JINHO lEE
KMD, PHD
Medical Director
Jaseng Hospital of Korean Medicine
CATHERINE DONAhue
DO
Assistant Professor
Michigan State University College of Osteopathic Medicine
DAVID COGGIN-CARR
MD, PHD, MSC, FRCOG
Editor-in-Chief
Acupuncture in Medicine
MIKE CUMMINGS
MD, PHD, MBBS
Medical Director
British Medical Acupuncture Society (BMAS)
KIEN TRINH
MD, PHD, FRSS, FRCP
Professor, Clinical Track
McMaster University
SUSAN WIELAND
MPH, PHD
Director
Cochrane Complementary Medicine Field
MYEONG SOO LEE
PHD
Principle Researcher
Korea Institute of Oriental Medicine (KIOM)
CHRISTOPHER ZASLAWSKI
DIP AC, PHD
Adjunct Professor
University of Technology Sydney
Watch the full recordings of the AJA 2023 Conference